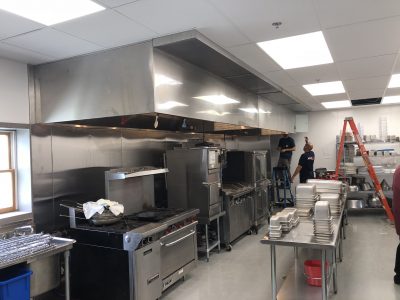 Superior Metalworks Inc. manufactures and installs all types of residential & commercial kitchen hood systems. Type I and Type II hoods are available in any size and include Stainless Steel baffled filters, lights with shatterproof globes, Stainless Steel wall panels, welded exhaust ductwork, Make-up air ductwork, exhaust and make-up air fans, Electrical Control panels with thermostat sensors and complete fire suppression systems.
Each and every hood system is custom engineered for airflow according to the cooking equipment below it. We provide scale engineer stamped shop drawings for submission to local authorities and/or third party inspection agencies. You can rest assured that every effort is made to provide leniency in pricing without affecting the quality and integrity of our finished product.
Commercial Kitchen Hood Specifications
Hood Components
Hoods are NSF approved with the appropriate mark. U.L. listed hoods are also available.
Hoods are 18 gauge, either type 304 or type 430, Stainless Steel with a #4 polished finish.
All internal and external seams are welded liquid tight, ground and polished to the original #4 finish.
18 gauge Stainless Steel filter racks run the full length of the hood at a 45 degree slope with
Integral grease troughs and convenient removable grease catch cups at both ends.
Grease removal filters are always Stainless Steel baffle type, with handles and weep holes. All Filters are U. L. listed and NSF approved for removal of grease laden vapors. Each filter is capable of exhausting 700 cfm of air at .45 static pressure, and run the entire length of the hood for the best air flow possible.
Incandescent canopy lighting fixtures are provided at 4′-0" intervals. Lights are U.L. listed and NSF approved for grease laden vapors, and are supplied with shatterproof glass globes and smooth aluminum bases.
Replacement Air (Make-Up Air)
Make-up air is introduced into the kitchen area in several ways depending on the situation:

Make-up Air is commonly introduced through perforated supply plenums (PSP) mounted at the top front of the hoods.  This introduces make-up air at the hood area at a low velocity.
Hoods are also available with rear mounted air walls that direct the Make-up air towards the floor behind the cooking equipment. These rear air walls run the entire length of the hood terminating 24″ to 30″ above the floor, and provide a backsplash behind the cooking equipment as well for easy cleanup. Some of our hoods are installed this way to increase the comfort level of the chef.
Another way to bring in Make-up air is through Ceiling mounted perforated diffusers. These diffusers are usually installed within 5′-0" of the hood area.

Make-up air to exhaust air ratio usually does not exceed 90%. Every situation is different and a consultation with the jobsite HVAC contractor is recommended to achieve proper air balances in every building. If you have an existing HVAC system and need to upgrade your hood, air balancing is always available by Superior Metalworks Inc.
Gas Fired Heated Make-up Air, due to everchanging codes, is now required in most municipalities. Introducing Heat Tempered Make-up air increases the comfort level of the workplace depending on the situation. Checking with your local inspection office is recommended to determine whether this is required in your municipality. Air-conditioned cooling option is also available with the heat tempered make-up air units.
Exhaust Ductwork
Exhaust ductwork inside the building (not exposed to weather) is 16 gauge carbon steel with all seams and joints welded liquid tight. Exterior ductwork (exposed to weather) is 16 gauge galvanized steel fabricated in the same manner.
Exhaust duct to hood connection are continuously welded. U. L. listed access doors with high temperature gaskets are installed at every change of direction and/or every 10′-0" of straight duct, for duct inspection and cleaning access.
Exhaust ducts terminate 20" above a penetrated roof and are protected from combustible materials as outlined in N.F.P.A. #96 & I.M.C. regulations, latest editions. 3M Fire Barrier ceramic insulation wrap is used to achieve a zero clearance to combustibles within 18″ of the welded exhaust duct.
Exhaust ducts are to be sized to provide a minimum of 1500 fpm and a maximum of 2200 fpm air flow.
Make-Up Air Duct Work
All duct work associated with the make-up air system is constructed of galvanized steel in accordance with SMACNA standards for low velocity duct. Ducts are insulated internally to prevent condensation in conditioned areas of the building in which it is installed.
Flexible insulated round duct connections not longer than 10′-0" in length join the hood, air walls or ceiling diffusers to the duct work at necessary intervals.
Ventilation Equipment
Exhaust fans are spun aluminum, centrifugal type Belt-Drive or Direct-Drive upblast style with backward incline venturi wheels. All exhaust fans bear a U.L. 762 label for commercial restaurant use and all A.M.C.A. tags.
Roof mounted exhaust fans are curb mounted a minimum of 40" from the roof surface to the outlet of the exhaust fan and located 10′-0" from other air intakes, electrical lines, adjacent buildings and or property lines. If 10′-0" clearances cannot be achieved, the exhaust fan outlet may be situated 3′-0" above all air intakes. Wall mounted exhaust fans are located a minimum of 10′-0" above grade level and 10′-0" from property lines and any operable windows or doors.
Make-up air ventilators are galvanized steel housing, Belt-Drive or Direct-Drive units with removable and cleanable aluminum filters. Units introduce untempered or tempered outside air into the kitchen area at 1200 fpm velocity.
Fire Suppression Systems
Complete UL 300 compliant wet chemical fire suppression systems are furnished and installed for the protection of the hood plenum area, exhaust ductwork and all commercial cooking equipment under the hood that requires this protection. A mechanical gas shut-off valve and an electronic micro switch is usually supplied with the system.
Electrical Control Panels
Electrical Control Panels are furnished with all hoods and contain all switches, contactors, and relays as well as room temperature sensors and hood temperature sensors for automatic on/off operation of all hood fans upon heat detection as per IMC codes.
Electrical Control Panels are also available for variable speed operation.  This feature results in energy savings due to the hood fans operating at reduced speeds, when customers are not using all cooking equipment at full capacity, during slower periods in the commercial kitchen.
Dishwasher Condensate Hoods & Pizza Oven Exhaust Hoods
Hoods are NSF approved with mark.
Hoods are 18 gauge type 304 Stainless Steel with a #4 polished finish and have interior baffles over the duct openings for increased air flow.
Hoods and associated ductwork for dishwashers are welded liquid tight, ground and polished to the original #4 finish (at all areas exposed below ceilings).
Hoods for Pizza Oven exhaust are welded liquid tight, ground and polished with round Galvanized steel or Stainless Steel duct as preferred by customers.
Low pressure curb mounted upblast style exhaust fans are installed at 50 cfm per square ft. of hood for dishwashers and Pizza Ovens.